Hello!
Here is my final 4116 tester. You can have all files from the link bellow.
Including: Part List, gerber files, arduino code, driver for clone arduino
Testing time: 11sec~
You can power the arduino from 9v dc power supply or from arduino usb (9v dc from power supply preferred)
Download:
http://www.mediafire.com/file/t4m4edsfm ... r.rar/file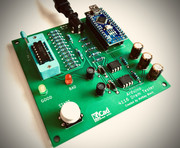 Have fun!