My wood case for my replica ZX80 and original ZX80 wihout case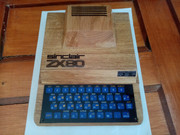 https://postimg.cc/gallery/7STvN28
Cool. How did you make it? CNC? Are the vents routed out? Is that logo burned in?
dstrnak

wrote:

↑

Sun Oct 10, 2021 9:53 am

My wood case for my replica ZX80 and original ZX80 wihout case

https://postimg.cc/gallery/7STvN28
It's a steam punk ZX80!

Hi, i hope you do not have a 'bugged" one

Only the issue ones were bugged, the later models were creosote treated, though splinters were still a problem.